There are plenty of urologists out there who say they perform vasectomy reversals. So what's a patient to look for when choosing the surgeon and center that will safely, skillfully and successfully perform his? Some traits to look for:
Significant Training
In addition to his medical schooling (where he received top honors and scholarships), Dr. Werthman completed a six-year urology residency followed by a full year of fellowship training in male infertility and microsurgery. After his training, Dr. Werthman was mentored by Dr. Cappy Rothman, one of the original founders and innovators of the microsurgical vasectomy reversal. Dr. Werthman eventually assumed the leadership role at Dr. Rothman's famous microsurgical vasectomy reversal practice in the mid-1990's and has remained there since. He is a true specialist in the field.
Watch Out For: Surgeons who haven't completed fellowship training in male infertility and microsurgery. Microsurgical vasectomy reversal can't be learned at a weekend training course.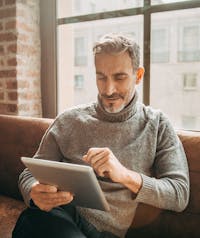 "Master" Craftsmanship
Since his practice is dedicated exclusively to vasectomy reversal and the treatment of male infertility, Dr. Werthman has devoted the time (over 20 years) and focus necessary to refine his surgical technique; thus mastering the performance of vasectomy reversals.
This dedicated focus has also allowed Dr. Werthman the opportunity to develop innovative approaches to vasectomy reversal, including the microsurgical vasoepididymostomy – a technique widely used today by many urologists around the world. He is considered a Master Microsurgeon by his peers and literally "wrote the textbook on these procedures."
Watch Out For: Surgeons who "dabble" in vasectomy reversal. In order to become and maintain a master-level of skill, the surgeon you're considering should have successfully completed thousands of vasectomy reversal procedures and is consistently performing many each month.
Extensive Experience
Having performed thousands of vasectomy reversal procedures over more than two decades of practice, Dr. Werthman's experience level is virtually unmatched by most general urologists and other reversal microsurgeons who perform such procedures. As the saying goes, "practice makes perfect," and Dr. Werthman has the outcomes and success rates to prove it.
Published Success
Rates & Outcomes
Any urologist can say he or she is "successful" in performing vasectomy reversals. Dr. Werthman can prove it with published success rates and outcomes. For men who have sperm present at the time of surgery, he has a 98% success rate in performing vasectomy reversal procedures that successfully restore a man's ability to father children.
Recognized Expertise
Highly-regarding amongst his patients, peers, scholars and members of the media, Dr. Werthman has a long-standing reputation for clinical excellence. He has authored textbook chapters and countless articles, teaches medical students, speaks at major events to large physician and public audiences and is frequently featured in major news outlets on topics and breaking news surrounding all aspects of male fertility and men's health.
The "Intangibles"
Sometimes, you can't quite "put your finger on" why you place complete trust in the doctor you choose. We call those the "intangibles" and at CMRM, our patients' trust in us is sacred. To make sure he keeps it, Dr. Werthman does many things:
Performs all surgery personally and places every stitch himself.
Teaches medical students and residents in the classroom, not in the operating room.
Personally cares for every patient before, during and after surgery.
Provides patients with his personal cell phone or home phone number in case they have post-operative questions – day, night or weekend.
Dr. Werthman believes that the expert and compassionate treatment of men undergoing vasectomy reversal is his life's mission. He takes great pride in his successes and believes it is a fantastic privilege to care for each patient and couple experiencing the challenges and emotions of starting or re-establishing a family.
Ready to schedule a consultation? Want to ask more questions? Give us a call! 1 (888) 861-8078 or fill out the contact form for one of our friendly and knowledgeable staff members to contact you.